INSET

Here are the packages I currently offer. I can run these as whole days, half days and twilights. I can also run them as workshop sessions with children so that staff can see the techniques 'in action'. I'm happy to tailor any of the titles to your own particular requirements.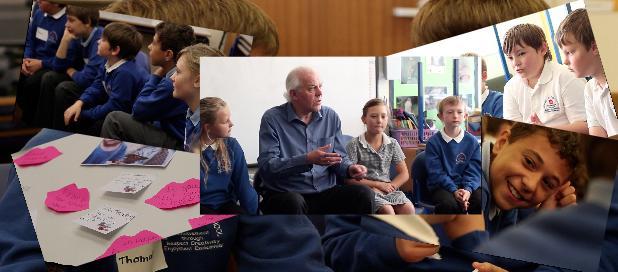 New! Developing Self-Confidence in Young Writers. Issues of how to motivate reluctant writers, low levels of literacy and the fact that the technicalities of writing often don't 'stick' with children are ongoing problems in many if not most primary classrooms. Low self-confidence and low self-esteem among children (not just in their writing) inhibit learning greatly and become especially acute in an educational system that increasingly builds competition and comparison into the learning process. Children with little confidence and the inability to assess their own achievements are less likely to enjoy their school experience or fulfil their potential as learners.

During the day you will learn a range of practical techniques and versatile activities for helping children to become more confident writers, which in turn will make writing more enjoyable for them. As young writers become more using the how-to strategies on offer for improving their work, their self-esteem as well as the quality of their writing are likely to rise.

The presentation is divided into several sections –

Creating the Writing Environment. Building the classroom ethos where more confident writing can take place.

Dealing with Feelings. Showing how children can work directly on negative thoughts, feelings and limiting beliefs within the context of writing quickly, safely and effectively.

Some Writing Games. Enjoyable activities designed to motivate even highly reluctant writers to 'have a go'. These games can be used across a wide age and ability range and are underpinned by a number of core thinking skills.

Practice Pieces. Showing how presenting children with pieces of text containing deliberate errors and anomalies will sharpen up their editing skills while avoiding the problem of them feeling negatively judged. Bespoke pieces of writing for editing purposes can be focussed on any areas of writing to support your ongoing programmes of work in literacy.

A Love of Language. Exploring the aesthetic qualities of writing spoken aloud. This section touches upon euphony ('pleasing sounds'), rhythm and flow in language, 'phonemes and physiology' (supporting the teaching of synthetic phonics), and wordplay, including how to use nonsense words creatively!

Storytelling Skills. Touching upon the importance of teaching children how to tell stories as a way of developing their communication and interpersonal skills.

The presentation is supported by a resource CD of extensive guidance notes, templates and activity sheets.
Inspiring Writing. This is a kind of 'pick of the pops' from my other workshops, containing over 25 ideas for showing young writers how to generate, organise and refine their ideas.
'Powertry'. This workshop explores how you can cultivate 'poetical thinking' in your pupils (as opposed to just looking at forms of verse). We look at multisensory thinking, the elements of creativity including making connections and multiple perspective, metaphorical thinking, plus a range of easily accessible poetical structures. The workshop is based on my book Countdown to Poetry Writing
The 'Mysteries Technique' for developing a range of writing forms (Mysteries presents pieces of information on scraps of paper and can be used for storymaking, journalistic writing, constructing arguments, exploring social issues, developing scientific thinking etc).
Picture Exploration, which uses visual stimulus to develop over twenty thinking skills in children. The usual outcome is creative writing, but the underpinning thinking can be used virtually right across the subject range.
Story Strands. This uses sequences of simple images to help children develop their ideas, beginning with word-level work right up to whole story planning. Based on my book Developing Literacy and Creative Writing Through Storymaking.
Kapow! Using the structure of comic book pages as a 'visual analogue' to help children structure their own writing. I've co-authored a book on these techniques with my friend Tony. We normally co-present a Kapow day, but to reduce costs either of us can present the session by ourselves.
But Why? Introducing P4C into Your School. Philosophy for Children is gaining in popularity in schools. This course covers the basics of what philosophy is, its educational benefits, and the pedagogy and protocols of running P4C sessions in the classroom. The course is based on my collaboration with Sara Stanley in creating the But Why resource for P4C plus the training I've done (as a student, levels 1 & 2)) with SAPERE - http://www.sapere.org.uk/. Note that I'm not an accredited P4C trainer, which is why my session covers only the basics - a 'taster' for those schools interested in incorporating philosophical thinking into their curriculum.
If you were looking for a broader context than creative writing, I can offer –
Boosting Creativity in the Classroom. This presents some techniques from each of the above workshops but with a broader base than creative writing. The session is based on a number of books on thinking and creativity that I've had published.
PeopleWyse: Coaching Emotional Intelligence in the Classroom. This course shows teachers how to cultivate life coaching techniques with children. The aim is to make young people more emotionally resourceful, independent and creative thinkers. The course is based on the book of the same name, which I co-authored with my friend Simon Percival. We usually co-facilitate the day, but to reduce costs either of us can present the session by ourselves.

*